Safe Pets Happy Owners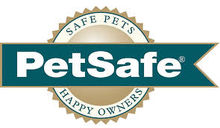 Pure Pet is proud to carry PetSafe® in Carbondale, Illinois.Pure Pet is proud to carry PetSafe® in Carbondale, Illinois.As the largest manufacturer of electronic pet training products in the U.S., we're devoted to the most innovative research and advanced designs. Our products help you and your pet have the best moments together, whether you need a little help with training or you just want to pamper your pet. We wake up every morning to the most amazing stories about how our pet products have made paws happier and safer from customers across 52 countries (and growing). Your kind words motivate us to work even harder for you.
Pet Products
Fencing: Wireless Fences, In-Ground Fences,
Harnesses & Leashes
Bark Control: Bark Collars, Ultrasonic Bark Deterrents
Training & Behavior: Remote Trainers, Clicker Training, Pet Roofing
Litter Boxes
House Training & Cleanup
Pet Fountains: Ceramic, Stainless Steel, Plastic, Accessories
Pet Feeders
Pet Doors: Door & Wall Entry, Electronic & Magnetic Doors, Sliding Door Inserts, Cat Doors, Flaps & Accessories
Toys: Dog Toys, Cat Toys
Treats
Batteries & Accessories: Batteries, Collars, Door Flaps, Filters, Litter Trays
Pet Gifts: Dog Gifts, Cat Gifts
Pet Tech
Travel Access & Mobility: Access & Mobility, Car Travel
What Pure Pet Customers Are Saying
We love our customers from Carbondale, Marion, Carterville, Murphysboro, Herrin, Harrisburg, and more!
Come visit our pet supply store in Carbondale, IL specializing in quality food, treats, and supplies for cats and dogs.